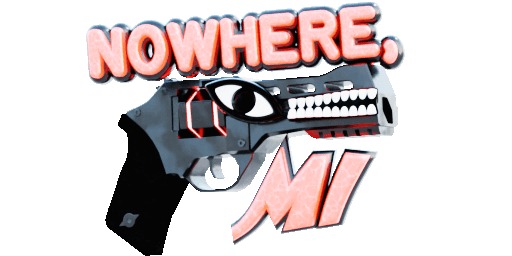 Nowhere, MI - Demo
A downloadable game for Windows
Nowhere, MI is an absurdist first-person metroidvania about a young man named James trying to track down his missing brother, Alex, after he runs away from home to find something in the mysterious town of Nowhere – ground zero for an experimental reactor detonation.
Utilizing the paranatural powers of strange lifeforms known as "surrogates," James dives into the mysterious town of Nowhere to begin his search for Alex. Along the way he encounters the many bizarre residents of the town, including (but not limited to) a failed wizard whose far-more-successful wife hates him, a group of mischievous monkeys that appear to be hiding more than meets the eye, a cabal of police officers who might be an evolved form of fungus, and to top it all off, a strange talking gun named Concord – who also happens to be the only person interested in helping James find his brother.
While Nowhere may appear harmless (or even comedic at times), under the surface lies never-before-seen threats… Strange lifeforms brought to this earth and animated by forces beyond human comprehension seek to stop James in his tracks for their own mysterious reasons…
With a town as chaotic and nonsensical as Nowhere, you can only trust your wits – and your talking gun – to survive.


A surreal PSX aesthetic evocative of Lilith Zone's "Crypt Worlds."
Wonderful alt-rock soundtrack composed by the likes of Monplaisir and Patrick Kilpatrick.
Metroid-vania gameplay where the player augments their body with surrogates – supernatural entities that need a human host to function – in order to dive deeper into the game world.
An earnest story about a broken family, and an older brother's adventure – with a sentient revolver – to find his missing younger brother in the mysterious town of Nowhere, MI.
Various abilities can be further augmented by collecting upgrades strewn about the world.
A cast of ridiculous characters to meet and quest for. Have you ever wanted to visit an incompetent old wizard and give him a chocolate bar so delicious it causes him to have a stroke? Do you want to help Scuba Steve solve the mystery of the sunken sarcophagus? Do you just want to touch the monkey? Yes, you can do all of this and more in the mysterious town of Nowhere, MI.
I would like to reiterate that there are lots of monkeys in this game. I guess if you're afraid of monkeys you probably shouldn't play it. Or actually you could play it if you want, since you can shoot the monkeys. Maybe you can consider this game a form of exposure therapy for pithecophobia.
Guest appearances from Peeb and Orbo, the mourning cubes from Turgor Pressure, and the babies from Let's Go Baby: Friends World.
You can pet the dog.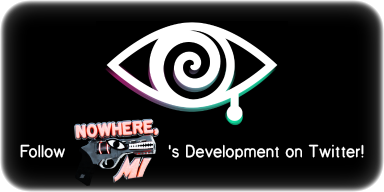 Download
Click download now to get access to the following files:
Nowhere, MI - Press Kit.zip
109 MB
Nowhere MI DEMO V1.4.0.zip
378 MB